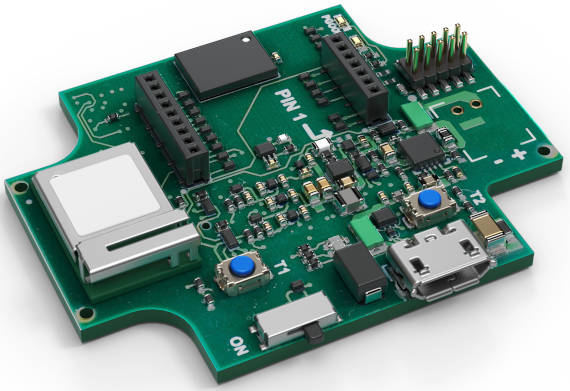 Called 'Application Board 3.0', is can be powered though a lithium-ion battery, and so can stand in for a wireless sensor node.
The board, which is 47 x 37 x 7mm, does not have its own sensors (except for temperature), and instead carries a socket for standard format sensor daughter boards from the company. The company specifies 'Shuttle Board 3.0' format sensor PCBs, of which there are various accelerometers, magnetometers, inertia units and environmental sensors (list link below).
On-board software automatically detects which sensor is plugged in at any time and launches appropriate code, and an associated IDE (integrated development environment) allows sensors to be evaluated and their parameters tuned via a GUI (graphical user interface).
The Bluetooth 5.0 interface comes from an on-board u-blox NINA-B302 module, based on Nordic Semi's nRF52840 chip, which includes an Arm Cortex-M4F processor. It is certified and compliant with directives for different international regions, including CE, RoHS, China RoHS, FCC, IC, VCCI, SRRC and NCC, said Bosch.
The Nordic chip has 256kbyte RAM and 1Mbyte flash, and 2Gbyte of external flash is provided on the board for data logging – there is an app note for data logging. A micro-USB 2.0 interface is included for connectivity alongside the Bluetooth – and the USB can also be used to power the board. There is also a pair of programmable push buttons and status LEDs including 'charging' and 'power-good' indicators.
"The board makes it quick and easy for developers to build their projects with any of our sensors on a single platform," claimed Bosch Sensortec CEO Stefan Finkbeiner.
Applications are foreseen developing industry 4.0, IoT, smart home and wearable products.
The rather thin product page is here – the user guide has more technical information.
Here dwells the sensor board list.